Liz McSkeane is a writer and publisher who was born in Scotland and has lived in Ireland since 1981. She has four collections of poetry : In Flight (Lapwing, 1996), Snow at the Opera House (New Island, 2002), So Long, Calypso (Turas Press, 2017) and Learning to Tango (Turas Press, 2021). 
Her first novel, Canticle is based on the life of the Spanish mystic poet John of the Cross and was published by Turas Press in 2018.
Breaking news! Liz's collection of short stories, What to Put in a Suitcase, will be published on October 5th! These sixteen stories follow a cast of characters destined to navigate a world that is by turns perplexing, intriguing, threatening, evoking a rich variety of people and situations. Already, the collection has been highly praised.
Praise for Suitcase
"The world of  What to Put in a Suitcase is a very uncertain place, full of uncomfortable questions. We are frequently unsure where we are,  the terrain shifts, the ground beneath our feet feels increasingly unstable.  These are stories written in spare, pared-back language, with images that startle, packed with interior monologues that are rich with insight and observation and reflect the challenges of modern life: immigration, the pandemic, violence against women, society's many inequalities."  Catherine Dunne

"In the hands of Liz McSkeane, the everyday ‒ a café terrace, a deserted corridor, an oriental rug, an airport lounge ‒ can be abruptly transformed into a site of conflict and menace. Always meticulous in her choice of language, these stories show her skill in evoking our primal emotions."  David Butler

"This is a brilliant, incisive collection of contemporary short stories, startling and unsettling in their profound reflections on the complexities of modern life." Lisa Harding
Some of the stories in Suitcase have been published already and a few are available online. If you'd like a taster, check out A Hot Coffee, which was published in The Irish Times online on Christmas Day, 2021; or Lebensraum, a passionate defence of personal space,  which Books Ireland Magazine published back in March.
What to Put in a Suitcase is now available for pre-order from the Turas Press website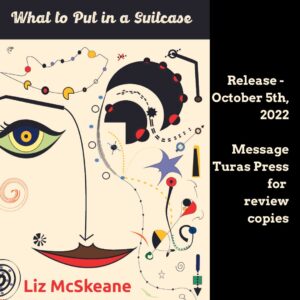 . Copies will be posted out during the first week in October.  Advance Review Copies are now available now as bound copies, so if you are a reviewer, do get in touch with Turas Press and Liz will pop a copy in the post.
Many of Liz's poems and short stories have been  published in journals and newspapers in Ireland and the UK: in AMBIT, The Irish Times, Poetry Ireland Review, The Irish Pages, The Shop, The Stinging Fly, Orbis, Stepaway, New Encounters and others.
Other achievements and activities
In 1999, Liz was overall winner of the Hennessy New Irish Writer of the Year award for her poetry.
Her novel Canticle was a joint winner in the 2016 Irish Writers' Centre/Greenbean Novel Fair competition; in 2021, one of her poems made it to the long-list of the UK National Poetry Competition, the last 152 out of a total of eighteen thousand entries.
Turas Press
Liz's publishing work began in 2017, when she set up Turas Press,   originally to publish her own work but soon branched out to publish other books by both new and established writers. Turas Press has now published twenty-two books by thirteen writers, with four more books due out in 2023.
Liz also an educationalist. She started out as a teacher and later went on to curriculum development. She has a PhD in Education, and for many years has worked as educational consultant for national and European institutions. To find out more about Liz's work in education, training and social science research, visit her  Linked In profile.
This web-site has a different focus – Liz's Writing Life.