In 2016, Liz's historical novel Canticle was a joint winner in the Irish Writers' Centre/Greenbean Novel Fair Competition. If you would like to get a taster of Canticle, check out  Chapter One
Some of her short stories have been published in: The Irish Times, Books Ireland Magazine, The Cork Literary Review, The Irish Pages, the Honest Ulsterman, Live Encounters and are available to read online.
Check out  the story
A Hot Coffee
, published in The Irish Times online on Christmas Day, 2021.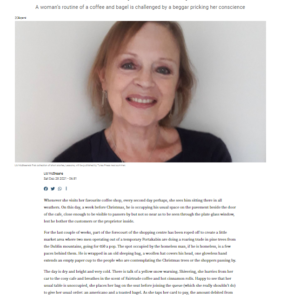 You can find s Leopold's Violin in Live Encounters
These and other stories appear in Liz's short story collection, What to Put in a Suitcase, which was published in October 2022.